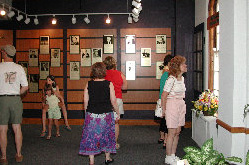 The National Cleveland-Style Polka Hall of Fame Museum is filled with artifacts and memoribilia from polka stars of yesterday and today. Some of the highlights include America's Polka King, Frank Yankovic's accordion and stage outfits. Memorabila and awards of Tony Petkovsek 50 years in polka radio and promotion, along with many other items. Within these walls you will also find memoribilia dating back to the turn of the century as well as information on those who have been inducted into the Hall of Fame.

Within these walls, you can trace the development of the Cleveland-style polka beginning in 1900, through each decade to the present. There is a special place dedicated to Lifetime Achievement Honorees, the Trustees Honor Roll and the Greatest All-Time Hits. The museum has also established an archive library and video collection of polka history.

Directions to the museum--We hope to see you soon!